Even though I had spent most of my childhood abroad and the idea of travelling was not new to me, landing in Italy and starting a new life proved to be a completely different experience from what I had perceived, reading novels about Europe and the image I had created in my mind. I did not expect that only at 7 hours flight away, there existed a completely different world from that of my own and I had no idea what would be the best way to blend in, while still keeping my origin, my values and roots intact. I landed at Milan Malpensa airport , to be greeted by an immigration officer who like most others, was very surprised to know that I was there to study and did not speak any Italian.
Source: quickmeme.com
View of Duomo of Milan
A glimpse of Galleria Vittorio Emanuele
 I explained to him that I was going to study at one of the leading universities in the world; Politecnico di Milano and that imparted education completely in English. He finally stamped me in, with a smile saying "Benvenuta in Italia". I was relieved and headed towards exit, to be greeted by my brother who had arranged with his friend to pick me up in his car.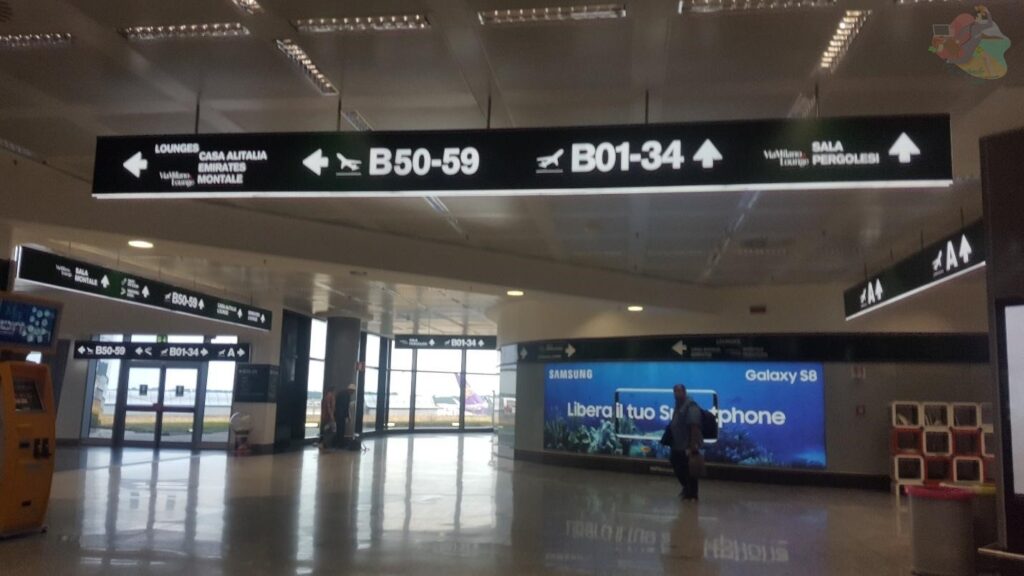 Milan Malpensa Airport
I vividly remember waking up to the delicious smell of coffee and freshly baked croissant in the air, which followed me wherever I went. My brother's friend and his family hosted me in a city 20 minutes train ride away from my campus. I went to Campus at Como the next day and after having done the necessary steps, my first question to my brother was "Where is the famous Lake Como and how soon can we see it?"
Once we reached the promenade of the Lake, I just wondered how people could be just walking in this non- challant manner, without paying much attention to that mesmerizing beauty in front of them. However, we had to keep our head straight and finish what duties lay ahead. During later years, when my brother came to visit me in Como, he always asked me how I managed studying while living at such a breathtaking place and how was it even possible to divert my gaze from the serenity of the pre-alps overlooking the lake, to my books.
The mesmerizing Lake Como, viewed from Tempio Voltiano
Registration in the university was a long process as there were many bureaucratic procedures to be followed. I was always carrying a strong sense of being in a strange environment, very different from back home. There were many adjustments to make. Weather was different and I was not used to warm sunny days followed by rapidly falling temperatures in the last days of September. Having come from a place which was mostly always sunny and September was still very warm, it took me a while to adjust and understand the weather in Italy.
Politecnico di Milano; Como Campus
Wherever I went for running errands to get my new life settled; from the admission office to bank to post office to the office of prefecture, everyone looked at me and complimented on my colourful clothes and stoles. Since I am from a country where we wear clothes with exquisite colours, embroideries and embellishments, it was a new experience to know the perspective of a foreigner. Later I had to make a complete wardrobe makeover owing to practical reasons and weather shifts.
My brother who studied at Polytechnic of Turin at that time, had come to get me settled at University in Como only for three days. He helped me do all the necessary things at the university and then left over the weekend as he also had to catch up with his studies. I did not have a smartphone, nor were they this common back in 2009. I quickly went through the balance I had on my new sim card and each morning, woke up with a pit in my stomach and sometimes even tears just ready to shed as I missed my baby brother who I love the most and had not been apart from, all my life. I desperately wanted to hear my mom's voice and smell the fresh flat bread she made for each meal. I used to buy a 5 Euro card and recharge my phone which of course did not last much. Then I switched to Skype and kept in touch through Skype. Still nothing could satisfy the feeling of missing home and did not overcome the feeling of being 7000 kms away from home. It was a new life and a new chapter which came with a lot of overwhelming challenges to deal with. The tough study, the life with roommates from Turkey and Colombia, a strange land with a language I did not know then, were all a bit too intimidating. My brother lived in the same country but we both were students without much luxury of being able to travel  whenever we wanted to see each other, neither financially nor time wise.
Via Anzani Halls of Residence where I lived; viewed from the bridge between Esselunga and the university campus
My stomach needed quite a bit of adjustment with the food, although now Italian cuisine is one of my most preferred cuisines. I was not used to having lunch at noon and a merenda (evening snack) at 4 and dinner at 7 pm. Titi (Tiziano), the café owner at the Bar Palladium, affiliated with my University Campus came up with ways to introduce us to different kinds of Italian dishes which, to me, were much more authentic than whatever I had tried as Italian cuisines back home. Getting education in Italy comes with its own blessings such as free or almost free meals by the university and a nominal university fee for candidates with great track records or an economic situation that qualifies for student aids. Having the food card from the university made it easy for me to fill my stomach when after 8 hours of university lessons, I had no energy left to cook anything. The transition from elaborately cooked meals full of spices and long slow cooking procedures, to Italian dishes with inherent flavours derived from herbs and the ingredients themselves, such as various cheeses, mushrooms, oil and butter etc, was a very happening journey of realizations, broadening of horizons and outlook on foreign cuisines. I had to be mindful of the fact that at 7 pm, almost all supermarkets and in fact everything closed down and if I did not want to starve, I would have to run to the supermarket and get something to eat. Of course, over time things changed and there were 24/7 markets and pharmacies available in a few years, but it took its sweet time to get there. Sometimes, I had no energy to prepare anything from scratch so I took out some prepared meals such as a Pizza slice or a pasta plate from the market and made do with it for the evening.  One thing, however, remained very similar between my own culture and Italian culture and that was people from both places took great pride in their food and definitely gave it the place of their cultural ambassador. The hospitality and generosity of Italians resonated with my own cultural roots and immediately gave me a way of bonding to the new place. The beauty of my magical Lake Como, the endless opportunities of nature walks in the neighbouring towns and being at a stone's throw from the Metropolitan city of Milan as well as Switzerland bordering Lake Como, hooked me to the place very soon. It was very thrilling to be able to just cross the Italian-Swiss border on foot and be in two of the most coveted countries in the world on the same day.
The famous supermarket Esselunga near my home
Fresh Mozzarella
The first week I went to Brunate, which was a village uphill and had its own characteristic environment and food, not to mention the unhindered views of Lake Como and far off into Swiss Alps. It was an amazing few hours' escape from the hustle and bustle of Como and offered great hikes, lookout points and relaxation opportunities.
Inside view of the Funicolare train that goes up to Brunate
 I remember I was wearing a beautiful pink dress with white embroidery and an old lady paused and came towards me and said something in Italian which I did not understand. She made a sign with her index finger and thumb saying that I looked perfect. I never forgot the kindness and affection in her eyes. She herself was elegantly dressed as were most Italians. I always joked to my brother that even the ladies who are going for groceries are dressed as someone coming from a chic sophisticated party. Old ladies even 80 and above dressed in impeccably classy dresses, wore red lipstick and pearl strings and carried themselves with such poise and elegance as if they were royalties ; understandably because of many actually having come from noble families of the past. I was getting educated in many aspects and learning the sophisticated and classy life of Europe and being immersed in art, culture and history was something that can't be taught at any university in the world.
The Public library of Brunate
The kind old lady of Brunate admiring my attire while my roommate captured the moment on her camera
It was the start of an exciting love affair between myself and Europe which is still very much in the air and will only die off when I breathe my last. I could never forget that first week and those memories, the fervor of youth and the zest with which I explored and hustled through the many challenges life brought to me. No matter how much time passes, those first few months of life in Italy would always be my favourite.